QR Codes for Home Repair and Maintenance
Created on 3 August, 2022 • Use Cases • 6 minutes read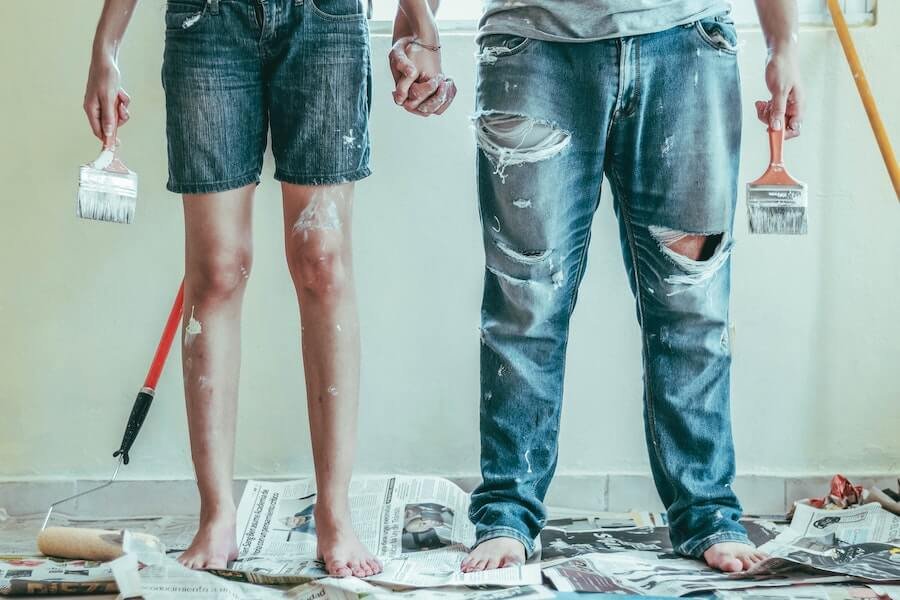 QR codes are an easy and accessible way to educate consumers on product knowledge about domestic machinery.
QR codes are an easy and accessible way to educate consumers on product knowledge about domestic machinery so they can find simple solutions to problems they would have needed to call a serviceman for in the past. Moreover, when a repairman is necessary, QR codes are also a great way for home repair companies to share their contact information and landing pages so customers can keep in touch, give reviews, and refer great companies to neighbors and friends.
Benefits of Using QR Codes for Home Repair and Maintenance
1. It's time-saving
Having a QR code for contact information for home repair services, on appliances for quick solutions at home, and on different brands of tools, will save a lot of time from guessing how to do something that could have been explained very quickly with the right resources and access to knowledge.

2. It's eco-friendly
Paper manuals and instructions get lost or thrown in the bin. Placing a QR code on domestic machinery will save all of the paper and ink from former printed materials. QR code instructions can also link to videos for viewing real-life repairs.
3. It's versatile
There is no limit as to how one uses QR codes in the repair industry. They are great for landing pages, QR code instruction manuals for installation made easy, contact information regarding services, and anything else you would like to share.
4. It makes it easy to get feedback
Collecting feedback is now easier than ever for maintenance companies. Generate a Square QR code for feedback and receive star ratings with optional comments and contact information from your customers to improve your services the best as possible and build consumer trust.
5. It tracks marketing campaigns
Track every scan in Square QR's analytics dashboard to receive exact numbers regarding the scans, check valuable feedback, and have a measurable campaign, which cannot be done with public display and newspaper advertisements alone.
Applications for QR Codes for Home Repair and Maintenance
1. Make fun QR code magnets
Put QR codes on magnets so when service repairs come up, you'll be the first they call. There are many companies that make customizable magnets and pairing one with an eye-catching Square QR vCard QR code with your contact information and landing page will remind people to reach out any time they need a service repair.
2. Print QR codes on invoices
Now when servicemen go out to job sites they don't have to collect cash and the customer doesn't need to pay with a credit card by phone. Just print a QR code on the service slip and customers can scan and pay straight from their mobile phones.
3. Use QR codes to track repairs on appliances and machines
Place a QR code on machines to track when the last time they have been repaired was and to see what has been done so that neither the consumer nor the repairman have to guess if it's due for service or what the problems are.

4. Write manuals with QR code instructions
Instead of keeping paper manuals around in boxes and fishing them out of the basement when there's a repair, having QR codes placed on appliances, or even furniture for constructing purposes, will save a lot of time and worry when a simple action can be taken if one had known the procedure. QR codes assist in an installation made easy.
5. Using QR codes for tools
There are many different brands of tools and while they look as if they do the same things, some have different functionalities, and having a QR code on a specific brand will let consumers know how to use it at its maximum capacity with safety and ease.
How to Create a QR Code for Home Repair and Maintenance
Creating QR codes on Square QR is easy and takes seconds. Here is a quick guide on how to create QR codes for home repair and maintenance to achieve your goals.
1. Choose the right type of QR code. Here are some of our suggestions:
2. Create a code
Creating a code on Square QR is easy and takes seconds. Choose the type, the link or the content to include and click on save when you are ready.
3. Modify the design
Design the QR code to match your branding guidelines and make your code attractive for people to scan.
4. Add your QR code to a folder to organize your workspace
Add customizable categories for new folders in the Square QR dashboard. Or, add your new QR code to a preexisting folder, both of which you can share with your marketing and management teams.
5. Test the code
Scan the code by directing your phone camera on it and check if all the content displayed is correct. To make changes, simply go back to the dashboard and edit the code.
6. Print the code
Print on any visible, scannable surface of machines, Facebook banners, magnets, and business cards.
7. Track analytics
Monitor every scanned code on the Square QR dashboard for your campaign so you may collect feedback and measure the success of each QR code.
Best Practices of QR Codes for Home Repair and Maintenance
1. Use QR codes for company landing pages
Olive Branch Home Repair and Remodeling in Tennessee, USA placed a QR code on this beautiful advertisement that leads to their Facebook page with contact information where clients can call and get directions straight from their mobile phones. They also post many pictures and video clips of the fantastic work that they do.

2. Use a vCard QR code for appliance repair contacts
vCard QR codes on landing pages, brochures, and business cards are fast and convenient for scanning contact information directly to input fields in contact sections of phones right away. This cleanly designed advert for Ben's Repairs in Ballinasloe, Ireland shares Ben's phone number, the map, his email address, Facebook page, and ability to share his contact information with others straight from their mobile phones.

3. Offer coupons and discounts on services
Appliance Repair Experts in Arlington, Texas, have placed a QR code on a beautifully designed digital coupon on their knowledgeable website for a 10% discount on labor costs for any appliance service.

4. Put QR codes on appliances for maintenance support
GE Appliances put QR codes on household appliances such as refrigerators, washers, dishwashers, and ovens, so when there is a problem, customers can scan the QR code instructions and support pages come up online to view information about the appliance. This is helpful for the consumer as they may see a simple solution right away as well as for the maintenance staff as they can receive better insights about problem-solving.

5. QR codes for installation made easy
A.O. Smith Corp. is an innovative provider of water heating and treatment products and solutions, always making improvements to make consumers' lives easier. They have provided a QR code for one-step installation made easy on their water heaters so customers can do it themselves if they choose.
‍