Why you should consider using SQR as your QR code generator
Created on 25 February, 2023 | Happy Customers | Team SQR | 3 minutes read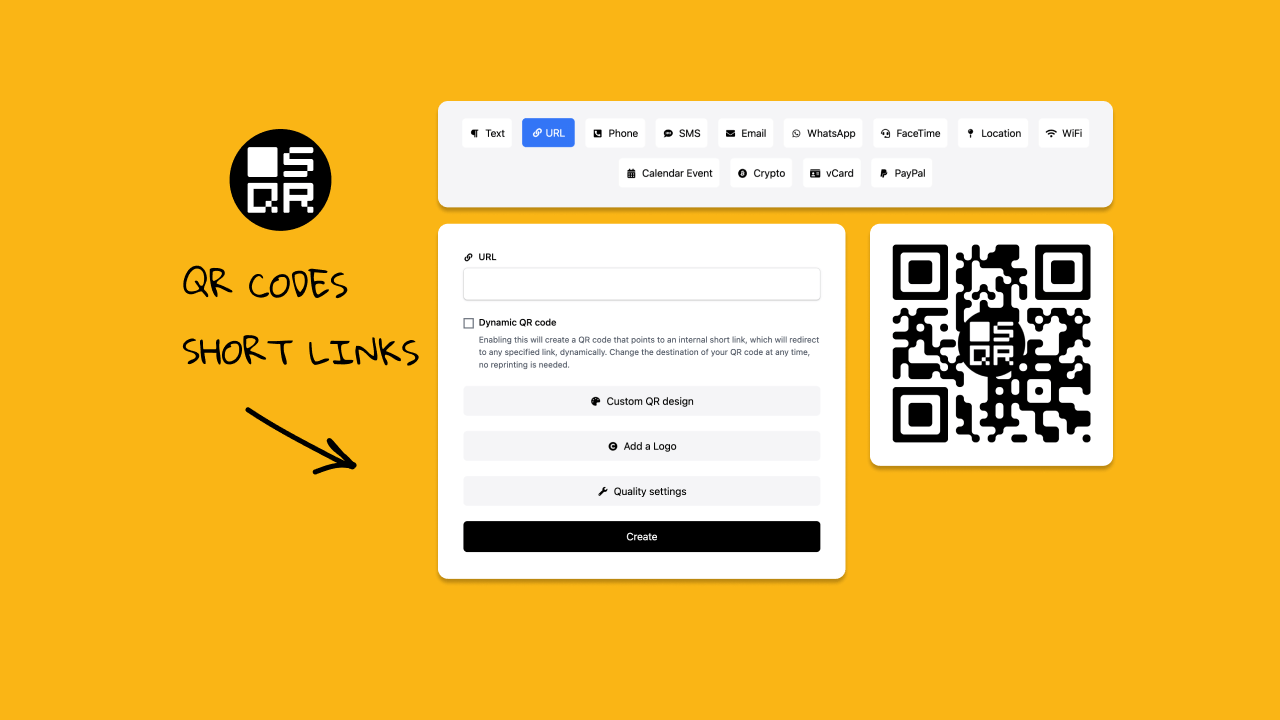 Why asked some of our customers and summarised their answers
In today's digital age, QR codes have become an essential tool for businesses and individuals looking to engage customers and drive sales. QR codes are a type of two-dimensional barcode that can be scanned by smartphones and other mobile devices to quickly and easily access information about products, services, and events. As such, it's important to choose a reliable and effective QR code generator that can help you create high-quality codes that will engage your customers and drive sales. One such QR code generator is SQR.co.
SQR.co is a user-friendly and reliable QR code generator that offers a range of features and customization options. Here are some of the reasons why people should consider using SQR.co as their QR code generator:
Ease of use: One of the main benefits of using SQR.co is its ease of use. The platform offers a simple and intuitive interface that makes it easy for anyone to create custom QR codes, regardless of their technical expertise. The process is straightforward: users simply select the type of QR code they want to create, enter the relevant information, customize the code to their liking, and then download or share the code. Additionally, the platform offers helpful tips and guides to ensure that users create the best possible QR codes.
Wide range of code types: SQR.co offers a wide range of QR code types, including URL, email, SMS, phone, and vCard codes, among others. This makes it easy to create codes for various purposes, from linking to a website or social media profile to providing contact information for a business or individual. Additionally, users can create dynamic QR codes that can be updated with new information without having to change the code itself.
Customization options: SQR.co provides a range of customization options, allowing users to create codes that match their branding and style. Users can change the color of the code, add a logo or image, adjust the size of the code, and more. This level of customization ensures that your QR codes are visually appealing and engaging for your target audience. Additionally, users can add frames and other design elements to their QR codes to make them stand out.
Free version available: SQR.co offers a free version of its service that allows users to create basic QR codes without any additional costs. This makes it a cost-effective option for small businesses and individuals who want to try out QR codes for the first time or create simple codes for personal use. The free version offers a range of features, including the ability to customize QR codes with logos and colors.
Reliable service: SQR.co is a reliable and effective QR code generator that has been used by thousands of businesses and individuals around the world. The platform offers a fast and responsive service, ensuring that your QR codes are created quickly and accurately. Additionally, the platform offers a high level of security, ensuring that your data is safe and secure.
Advanced features available: For more advanced features, such as analytics and password protection, users can upgrade to a paid plan. This offers additional functionality and support, making it a great option for businesses and individuals who need more advanced QR code features. Additionally, the paid plans offer additional customization options, such as the ability to create branded QR codes and the ability to track scans and interactions with your codes.
In conclusion, SQR.co is a great choice for anyone looking to create custom QR codes quickly and easily, without having to spend a lot of money on expensive software or services. With its range of features, customization options, and affordable pricing, SQR.co is an excellent option for businesses and individuals looking to enhance their marketing efforts and improve their customer engagement. Whether you're a small business owner or a marketing professional, SQR.co can help you
Updated on 25 February, 2023