QR Codes for Media and Publishing
Created on 5 August, 2022 • Use Cases • 8 minutes read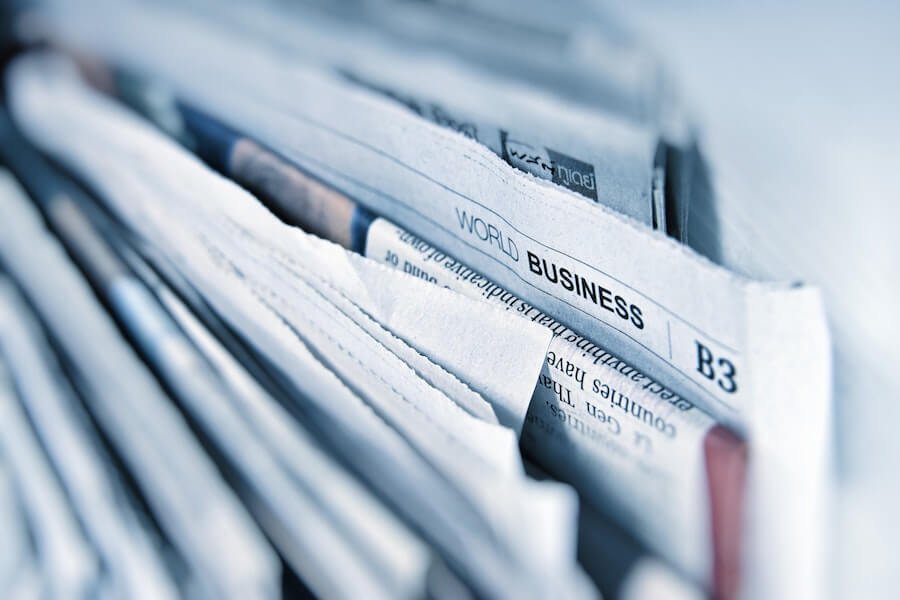 Using QR codes for media and publishing is an amazing addition to printed reading materials and even online materials.
Using QR codes for media and publishing is an amazing addition to printed reading materials and even online materials. Teachers love QR codes in textbooks for more creative resources when lesson planning, as students of all ages love to scan them for extra virtual experiences. Even magazines and newspapers are adding QR codes to keep readers engaged and offer quick e-commerce solutions. Moreover, readers can connect with authors on social media platforms through QR codes in novels and on articles, like they were never able to connect before. Learn how you can use QR codes for connection, educational purposes, driving traffic to e-commerce shops, and more.
Benefits of QR Codes for Media and Publishing
1. It adds something extra to print media
QR codes in print media add AR experiences and VR experiences that wouldn't have been linkable without QR codes. Adding to the learning experience with accompanying resources enhances and cements educational goals further than before.
2. It's fun and easy to design
QR codes don't have to be black and white little squares anymore. Add colors that are customizable with Square QR's QR code generator, with clear calls-to-action so readers know what extra they are getting when scanning.
3. It's effective for advertising
QR codes with links to product pages will increase website traffic and in addition, increase sales. With Square QR's dashboard analytics it's easy to track how many scanned QR codes sent customers to your site, for a more measurable marketing campaign to reach sales goals.
4. It can boost traffic to your e-commerce store
It is easier than ever to place a QR code in magazines and newspapers to find the latest sales and promotions straight from your phone. Instead of going to stores or searching online, have a direct link to e-commerce stores for merchandise and their complements with a QR code.
M-commerce statistics from OuterBox show that on Cyber Monday, "54% of visitors came from mobile devices, while around 33% purchases on their mobile device, up over 40% from the year before."
Having a direct link from publications by QR code, especially for seasonal promotions to your e-commerce store, will assist in driving traffic to your site and increase sales.
5. It is great for connecting with readers
Today authors' editors have an opportunity to have two-way communication with readers. Now they can place a social media QR code in their books and on their articles in print or online, sending readers to their social media accounts where they can share about new works, stories behind current and former work, and interact with readers more frequently.

Applications of QR Codes for Media and Publishing‍
1. Print a QR code for audio samples of books
These QR codes could be printed anywhere, from a window in the shop of a bookstore to expand your audience and get media attention, to the end of another book as a sample chapter for what's to come in the next novel. Even print them on coffee cup sleeves to extend your client base from outside of the bookstore.
2. Add QR codes to textbooks for audio and videos
Incorporate QR codes into textbooks to give students a more vivid experience. For language classes, use QR codes for audios and pronunciation practices. For science, print QR codes routing students to experimental videos and marine life behavioral clips, for example. Color code the QR codes in every chapter so students know what type of content they will be receiving. This is also favorable for teachers planning lessons.
3. Place QR codes in newspapers for VR experiences
For online publications, commonly there is a video accompanying the written material. For printed publications, you can do the same with a QR code. Simply print an eye-catching QR code in printed media and send readers to videos and interviews about news and other topics, from their mobile phones.
4. Start a community discussion
For newspapers and magazines in print, link a QR code to the article that leads to a discussion board on the publication's website. People love to speak out and find other like-minded individuals online and give ratings as well. Then they can interact with others who have read the article on paper and online.
5. Use QR codes for lesson planning
With more resources available today than textbooks and physical paperwork alone, there is a multitude of ways that teachers can distribute materials to students. Having a QR code on books with lesson plans, ideas, and various media is another fun and interesting way to get students engaged and ready to learn.
6. Link QR codes to games
The crossword puzzle in the Sunday paper is a wonderful tradition. As technology changes many more games have been offered by mobile phones. For those who do not read the newspaper in print, or who would like an alternative choice in games, placing a QR code in the newspaper in print or online, for an additional game option is great fun.

How to Create QR Codes for Media and Publishing
Creating QR codes on SQR is easy and takes seconds. Here is a quick guide on how to create QR codes for media and publishing to achieve your goals.
1. Choose the right type of QR code. Here are some of our suggestions:
URL QR Codes - perfect for sharing website content with videos, interviews, instructional experiences, extra research, extended learning materials, promoting e-commerce, and more.
Social Media QR Codes - ideal for increasing the number of followers on your social media accounts to connect more deeply with your readers and increase the number of readers.
Plain Text QR Codes - static QR codes that never change. Fantastic for sharing a sample chapter of a book where the text never changes.
2. Create a code
Creating a code on SQR is easy and takes seconds. Choose the type, the link or the content to include and click on save when you are ready.
3. Modify the design
Design the QR code to match your branding guidelines and make your code attractive for readers, teachers, and students.
4. Add your QR code to a folder to organize your workspace
Add customizable categories for new folders in the Square QR dashboard. Or, add your new QR code to a preexisting folder, both of which you can share with your marketing and management teams.
5. Test the code
Scan the code by directing your phone camera on it and check if all the content displayed is correct. To make changes, simply go back to the dashboard and edit the code.
6. Print the code
Print on any visible, scannable surface of the book, magazine, newspaper, e-book, or e-magazine.
7. Track analytics
Monitor every scanned code on the SQR dashboard for your campaign so you may collect feedback and measure the success of each QR code.
Best Practices for QR Codes for Media and Publishing
1. Customer engagement through e-commerce
Associated Media Publishing (AMP) in South Africa, are the publishers of many popular magazines geared toward female lifestyle and trends, like Cosmopolitan and Good Housekeeping. In their October 2019 editions of 5 of their best sellers, AMP ran a campaign with QR codes on the covers to stand out to shoppers. The 'Ready to Shop' campaign incorporated bank-backed QR codes into the magazine for customer engagement with eCommerce, since QR codes are a well-recognized way to pay in South Africa.
"So, essentially, what we call 'ready to shop', is an extension in terms of our strategy of keeping our brands and our mediums relevant to our audience, and understanding that this is such a valuable consumer, and you have such a deep-seated trusted relationship with this consumer as a medium," stated AMP's CEO Julia Raphaely. The goal of the campaign was to be more transaction-friendly but not a catalog.
This whatsnewinpublishing.com article reports, "The strategy has seen rapid results. Between mid-December 2019 and mid-April 2019, QR scans across AMP's brands grew from 7,000 to 17,430, with the online side almost doubling as well."
This was followed by Raphaely sharing the campaign's proven results, "Our page views in our shops grew from 47,000 to 84,441. And the products that we've loaded in the shop, which is our back end, which we call 'ready to shop' have grown from 1,500 to 3,174."




2. Producing book trailers
Publishers have realized that books that have trailers are more enticing for the reader, especially when it has to do with children because they want to be entertained and need various content to learn surrounding the book itself. These trailers keep children engaged and excited to read the book after watching a fun trailer about it.

3. Protect from piracy
According to Forbes.com, $300 million in publisher income is lost annually as a result of online piracy, according to data from the Authors Guild presented during Book Expo 2019.
Granted, this isn't an entirely new revelation: A 2017 Nielsen consumer survey covering ebook piracy found "$315 million in US book sales was lost annually due to piracy."
Since this is such a serious issue, publisher McGraw Hill is placing a certification seal in all of their books so students and teachers know when the QR code is scanned that it is not a counterfeit.

4. Give back to the community
SBA Publishing House offered free digital children's books to promote learning and education during the quarantine to make children's, parents', and teachers' lives a bit easier. They posted the advert on their Facebook page with QR codes to make the books accessible for everybody.

5. Advertise for use of ebooks
Bearport Publishing uses QR codes to offer a free ebook download to an offline PDF, to promote the use of online books, and try their service. The goal of the campaign is to sign up to have access to various online ebooks at an affordable monthly rate. Not only is this option eco-friendly because of the paper and ink reduction, but it is also lighter for reading on the go. The QR codes are unique to each person's account and they can use the service unlimitedly.

6. Expand your reader base
Use QR codes to ask readers to follow you and to provide easy m-commerce options. Zheng Family Publishing created a cheerfully bright Facebook advert with a call-to-action to purchase the book by QR code and to follow them on social media. This will expand reader bases by getting publishing companies and materials shared by many others on social media, and grow book sales with online purchases.