The Ultimate Guide to Running a Sustainable Co-working Space
Created on 4 August, 2022 • Co Working • 10 minutes read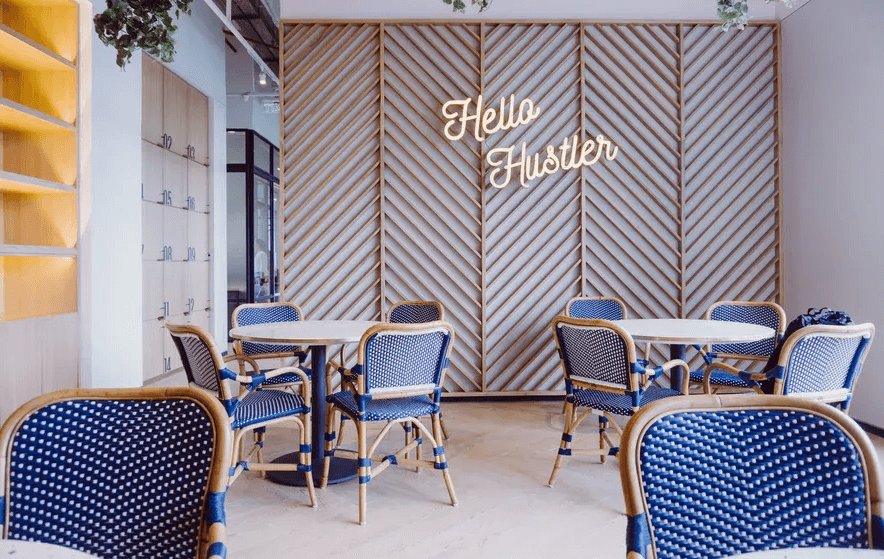 This ultimate guide covers strategies and software that you need to run a sustainable Co-working space business.
According to —Job Description Library, "remote work" appears over 18000 times per month in the UK alone.
Hence, creating a coworking space to foster this booming world is the best thing to do to support lonely remote workers and also fulfill a growing timeless business.
But truth be told, managing a coworking space is one of the hardest businesses to start and sustain. From managing facilities and employees to keeping old members happy. In addition to Onboarding new members, and adjusting to covid. Many moving pieces must be properly woven for the smooth run of a coworking space.
Kian Nowrouzi, the co-founder of Waltham Coworking who founded his business amidst the pandemic, in a youtube video noted that coworking space owners face the challenge of attracting members as one reason coworking spaces do not take off.
In his words:
"Onboarding was a challenging issue. In the beginning, we ran into issues like wifi connectivity, access to the space, member onboarding to the portal, and the elephant in the room, covid 19. Another challenge was that we had to focus big time on attracting new members and focusing on growth while at the same time keeping our existing members happy".
Listening to many coworking space managers and owners share their struggles, it's clear that you don't want another article that talks about - what a coworking space is, why you should create a working space, and all those facts you already knew on your first day at work.
This is why this piece takes a new approach by covering the challenge coworking space managers face. And those challenges are divided into 3 broad parts:
Management of community
Management of facilities and amenities
Management of staff
From this guide, you'll;
Discover strategies that'll help you be competitive in each of the three major parts.
Discover software that'll help your staff be more efficient and make your management work easier.
Become more confident in your vision of building a knitted ecosystem that remote workers can call home.


Management of Community
The powerhouse of every business is revenue, and it's fueled by none other than customers. Investing in the satisfaction of your customers has no shortcut. It would help if you made every process seamless, from the onboarding session to the community experience.
The right way to achieve such unity is for coworking space managers to strive and build an inclusive ecosystem that welcomes diversity from professionals of different cultures, races, and beliefs. Your community should be an environment that makes it easy for like minds to attract, connect, and network.
For such a high-end and diversified coworking space, there are a variety of needs. It's your job to know the peculiar needs of your members and build systems and opportunities that solve them.
Brian Watson, the co-founder of Proximity Coworking, in an interview with Everything Coworking, said – he does a one-on-one onboarding session with each new member physically and recently on video calls while gifting them a $5 Starbucks coffee.
This helps him make a genuine connection with the members. And in the long run, it strengthens his bond with his community. This aspect, according to him, is something that requires a human touch rather than automating with machines.
Prioritize Human Touch Over Automations
In other words, Brian is emphasizing that bond strengthening is key to uncovering the genuine needs of your community members, knowing what they expect, and getting hints on the aspects of your customer service to strengthen.
Also, beyond shared workspace needs, you can discover personal needs.


Discover Member's Personal Needs
Suppose most freelancers talk about their struggle with time management. In that case, it's a perfect opportunity to show them how much you care about your community by inviting a productivity expert over for a talk on a scheduled date or as a part of the off-hour event.
You may also find out you have many startups with great ideas in need of capital. It's another opportunity to partner with venture capitalists or banks to help them make their ideas a reality.
This process of getting to know your members in person could be your opportunity to unlock market advantages your competitors can only wish for.


Management of facilities and amenities
According to Indeed, "A work environment is the setting, social features, and physical conditions in which you perform your job."
Meaning?
Nobody will pay to work in an environment less conducive than their home.
Your job is to constantly find ways to optimize your coworking space with facilities and amenities that promote safety, productivity, and goal attainment.
This is where you give customers what they're looking for and keep the promises you made to them.
Here are the factors coworking space users consider and the amenities you need to install to attract the right members.
Ambiance
Your coworking space should have a look and feel that can stir up a lazy and cranky man to work. The organization and the design must use a lot of careful thought.
Consider the significance of the colors on your walls, floor, ceiling, and table. Always settle for vibrant and cool colorsover light shades.
Incorporate elements that connect to nature, such as access to sunlight, windows with a view of nature, potted plants, flowers, artworks, portraits of natural elements, and wooden furniture. It helps to improve mood, attentiveness, and stress reduction.
Physical security
Security is a top priority. This is not just for your members but for the safety and reputation of your business.
Consider the following security tools:
Video surveillance. Your members come with many personal devices, and they want to know that they have no worries when they go get a beverage. And even if they lose anything, you can track it.
Visitor tags are great. This will help members identify non-members who come for deliveries or business meetings. It will also help you identify loiterers who have no business in the space.
Other ways to give your members a sense of security include:
Installing fire alarms
Installing first aid kits
Having guards at the entrance.


Privacy
No one likes to have people snooping in their business. Create privacy by properly arranging desks- reduce clutter between desks by using desk dividers to create boundaries.
If you have conference rooms where people hold private business meetings, it's not proper to have non-participants dropping into the conversation. You want to ensure that the walls and doors are soundproof.
A Coworking space needs to have a serene environment - this means no loitering during word hours, No loud noise from the conference room, or phone calls that causes distractions, hence, turn your space into a playground.
You can curb this by;
Implementing rules that constantly remind people of the need to maintain quietness and decorum.
Ensuring every piece of furniture has noise- reduced effect
Providing open space for chatting and phone calls


Covid Measures
We manage coworking spaces before covid isn't the same as after covid.
As much as the pandemic presents an opportunity for coworking space market expansion, your share of this market can be drowned if you're negligent about the health and safety of members and employees.
Here are the covid safety measures to implement:
Ensure proper ventilation and spacing.
Ensure proper and frequent cleaning and disinfecting.
Remind your members and staff to keep their physical distance.
Place visible signage of safety guidelines in strategic places.
Use QR codes to direct people to sanitary and disinfection videos online.
Limit contact by embedding information in QR codes.
Other coworking space amenities to be considered are;
A stable wifi connection.
Daycare centers for parents with babies.
Bathroom
24/7 building access
Bookshelves
Beverages
Photocopiers and printers
Confined spaces


Management of staffs
As much as you're invested in your community, it would help if you were invested in your staff. The efficiency of your staff impacts customer service and the overall sustainability of your business.
Strive for a work culture that enhances the effectiveness of your staff. Ensure to keep processes simple and seamless. This is easily achieved when you use software to automate necessary processes. Software drives free-flowing processes to relieve you of a huge chunk of your administrative work.
Here's a list of the categories of software that you need.
Co-working management software
You can say goodbye to manual data entry with this type of software. Here are ways they can make your work easier:
Automate membership plans.
Automate check-in process
Invoicing, billing, and payments using credit cards through platforms like Strides and Paypal
Automate notifications
Add and stack plans each month
Grant access to benefits and perks
These are some great coworking management software:
Cobot
Coworking
Optix
Zorah systems
Archie
Nexudus
Essays
And cards
Habu


Communication software
Make disseminating information with staff and community members easier and faster with these tools.
Chat groups
Emails platforms


Space management software
If you have conference rooms, room scheduling software will enable you to grant access easily. Not all the coworking software was built with room scheduling in mind. These types of software were specifically designed to meet this need.
Room scheduling software
Groomzilla
Get a room app
Robin Powered
Tearoom
Skeena


Customer relationship management software
CRM software is designed to help you track, manage and improve relationships with your leads and customers on the go.
Here are the benefits of using CRM software for your coworking space:
Imagine you have people who have shown interest in becoming members of your coworking community with a CRM. In that case, you can input their information in one place, track how they respond to your emails and sales calls, and get insights on how to convert them into customers.
They also offer features that help you get feedback from your community members. This way, you can secure the reputation of your company.
You can manage the efficiency of your marketing and sales team.
And your job is easier doing it all on the platform.
Here are some of the best tools to consider
HubSpot free CRM
Salesforce
Monday.com
Creatio CRM
Snov.io


Collaboration Softwares
If you're wondering what on earth a QR code software will do for your coworking business, then you have no idea what you're missing out on.
QR code or quick response code are quickly adopted in all works of life because it provides the easiest way to share and grant access to specific information in an agile and straightforward way.
Typically, a coworking space business uses at least one of the software categories above. Isn't it annoying to get staff bugging you to grant access to the software every time?
Not again!
With a QR code, all you need to do is embed the required info in small square dots through QR code software. You can then print and paste anywhere around your workspace that allows easy access. And with any mobile phone with a camera, your staff can scan the QR code, and access needed software whenever they want. That sounds like a relief.
Here are other ways you can leverage QR codes to reduce your workload and drive a smoother operation in your coworking space.
Grant exclusive information access to specific members and staff.
Direct questions about using some equipment like a coffee maker to a particular site on the internet.
Do you need to paste rules and guidelines like the covid rules we discussed earlier? Don't paste a long list on your walls. Embed links to the information in a QR code, and all you'll need is a tiny amount of space to paste it.
Track information like web links and passwords and change them whenever you like.
If you want to make your QR code right away, SQR offers unique features at $0.



Conclusion
Running a coworking space may sometimes seem like a bad decision, but the truth remains that you can do a billion-dollar business out of it like WeWork.
Your greatest strength is knowing the bits that make up your business and putting a free-flowing system in place.
The software has come to save the world of coworking business. Leverage as many as you can, especially when they're free or affordable. Your processes will become seamless and more efficient, and you can give more time to the most important part — building a vibrant coworking community.