11 Reasons to use a QR code Menu in a Restaurant
Created on 22 August, 2022 • Hospitality • 5 minutes read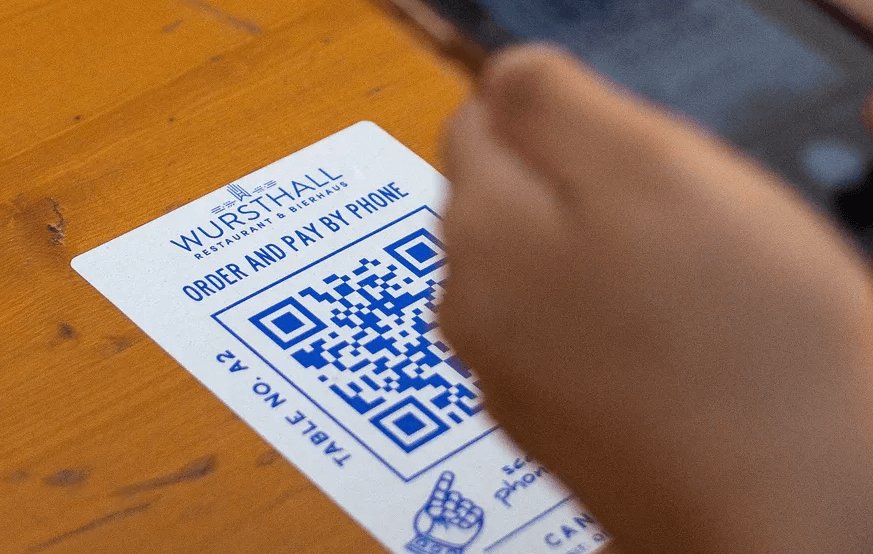 Increasingly, restaurants are offering a QR code menu to sit-in customers for table ordering. It's a great solution
Increasingly, restaurants are offering a QR code menu to sit-in customers for table ordering. It's a great solution for a variety of hospitality businesses, from restaurants and bars to hotels, stadiums, and cinemas.
There are loads of advantages to using a QR code menu in a restaurant in addition to the more obvious social distancing and hygiene wins.
First, let's find out what exactly is a QR code menu. Then we'll dig into the many great reasons to introduce one into your restaurant.
What is a QR code menu?
A QR code menu is a digital version of a menu that customers can view by scanning a code on their smartphone. It eliminates the need for physical menus at tables, creating a more COVID-friendly customer experience.
The QR stands for 'quick response' which is exactly what customers want in a restaurant environment. The square code is an image just like a barcode you might see in a grocery store. When a customer scans it on their smartphone, they are automatically taken to a website or app where the code is translated into readable menu information.
Not only can your customers see the menu, but they can also select the items they want to order and pay on their mobile phone – a completely contactless ordering experience.
Why use a QR code menu in a restaurant?
From social distancing to higher-order values, there are many very good reasons to use a QR code menu in a restaurant. Here are 12 reasons we think are pretty convincing.
1. Eliminate menu sharing between customers
Of course, the biggest advantage right now with a QR code menu in a restaurant is that it reduces the number of things customers have to touch when they are dining in. Often a menu is passed around a table between a group of people as they decide what to eat and drink. Display your QR codes in easy-to-spot places around the restaurant making it as simple as possible for customers to find and scan them.
2. Save money on printing costs
In many restaurants, the menu changes regularly. Updating a print version of a menu when the chef introduces a new item, or runs out of something, costs money each time. Instead, with a QR code menu, the changes can be made digitally as and when the need arises, without any additional expense.
3. Reduce staff contact with customers
People have learned to minimize their physical interactions with others during the pandemic. As a restaurant owner/operator, you can facilitate a reduction in contact between your staff and customers with a QR code menu. In some instances, the staff will still need to deliver the food to the table. However, you could also have a collection point system within the restaurant to further minimize human contact.
4. Increase order values
Consumers spend more when they order digitally. In fact, you can increase your average order value by as much as 30% with online ordering embedded into your operations.
When an upsell is attempted face-to-face, it can be a clunky, awkward experience for both staff and customers. Ordering from a digital menu, customers don't feel under pressure to decide quickly and are more at ease adding additional menu items. They also don't feel embarrassed or shy adding a second helping of onion rings.
5. Speed up table turnover
One of the biggest challenges for a restaurant manager is serving as many customers as possible without anyone feeling like they are being rushed out the door. So instead of your customers sitting waiting to catch the attention of a waiter to place their order, they can immediately scan the QR code menu as soon as they are seated. You may even want to allow them to order ahead of sitting down. This speeds things up enormously. Customers can also order additional items during the meal, either because they forgot to include it or decided at the last minute that they really do want that extra side of mushrooms after all.
6. Update menu items easily and frequently
When you run out of something in the kitchen it's a hassle having to let customers know that a menu item is no longer available. With a digital menu, you can update it as often as you like with minimal fuss.
7. Better menu design
A digital menu is built with a strong user experience at the forefront, so you can make the most popular items stand out, increase order value and optimize conversion rates.
8. Entice with food images
Space is limited on print menus which is often the reason why there are no pictures of the food. But customers decide with their eyes. A great photo of your mouth-watering burgers with all the trimmings will catch people's attention and entice them to order them. With a digital menu, you can include images with as many of the menu items as you wish.
9. Better customer experience
Overall, your customers will have a more enjoyable and relaxing customer experience in your restaurant. A QR code menu is a quick and easy way to order. They can visit the menu on your website or app without having to manually search for it themselves. It also frees up your staff to focus on the 'hospitality' part of their job more than the administrative tasks and reduces the chance of an order error. With a QR code menu, the customer is in control of the ordering experience. They select exactly what they want to eat and input the order details themselves. No miscommunication between the waiter and the customer. Not forgetting to write something down. This is especially helpful in tourist areas where language can sometimes get lost in translation. Consumers have embraced contactless ordering during the pandemic. A recent study on contactless ordering shows that the vast majority (80%) of pub-goers that have used digital tools to order food and drinks want to keep using them in the long term.
10. Collect customer data
There's an opportunity in the QR code ordering process to collect customer data. Customers provide an email address or mobile phone number as part of their order journey, which you can capture in your system and use to market to them in the future, driving loyalty and retention. Data is the lifeblood of any successful business and yours is no different. You learn more and more about your customers over time – what they eat, when they eat, and what keeps them coming back for more – helping you to grow your business.
11. Build brand awareness on social media
As customers browse your online menu via their mobile phones, it's the perfect opportunity for them to share about your food or brand on social media.
At Menu.Cards, we can help you set up a QR code menu ordering process in your restaurant. Our online ordering system for food collection and delivery includes contactless ordering features that can be enabled quickly and integrated seamlessly, whether for table ordering or a self-service kiosk.
If you need any help setting up an online QR menu: Contact